Dear %%First Name%%,
We hope you've been enjoying your Monday Morning Motivator. If you've received this issue for the first time - welcome aboard! It only takes a couple of minutes to start your week off right with the MMM! Be encouraged by the success or great ideas of others in your business community. The MMM has a community of 100,000 subscribers.

Note : Please add Adam Advertising Group (drago@adamadgroup.com) to your address book to ensure it is not zapped by your spam filter.
Click Here to check out our recently updated YouTube Channel: (Check out our new videos)
Note - If the newsletter is not displaying properly - Click Here to read it on our Archive Page

Note - In our efforts to be Anti-Spam Compliant, our unsubscribe link is at the bottom of the newsletter or you can reply to this message with the word Remove and we will do so accordingly.
Life Lessons From The Super Bowl!
This week we share a powerful message from author and speaker Jon Gordon. Being an ex- hockey player, a lot of Jon's insights hit home. The difference between winning and losing is often fractional, but the lessons we learn from losing can be truly life or game changing.
Check Out Our Video Of The Week – West Coast Toyota – 2022 Tundra, We Speak Your Language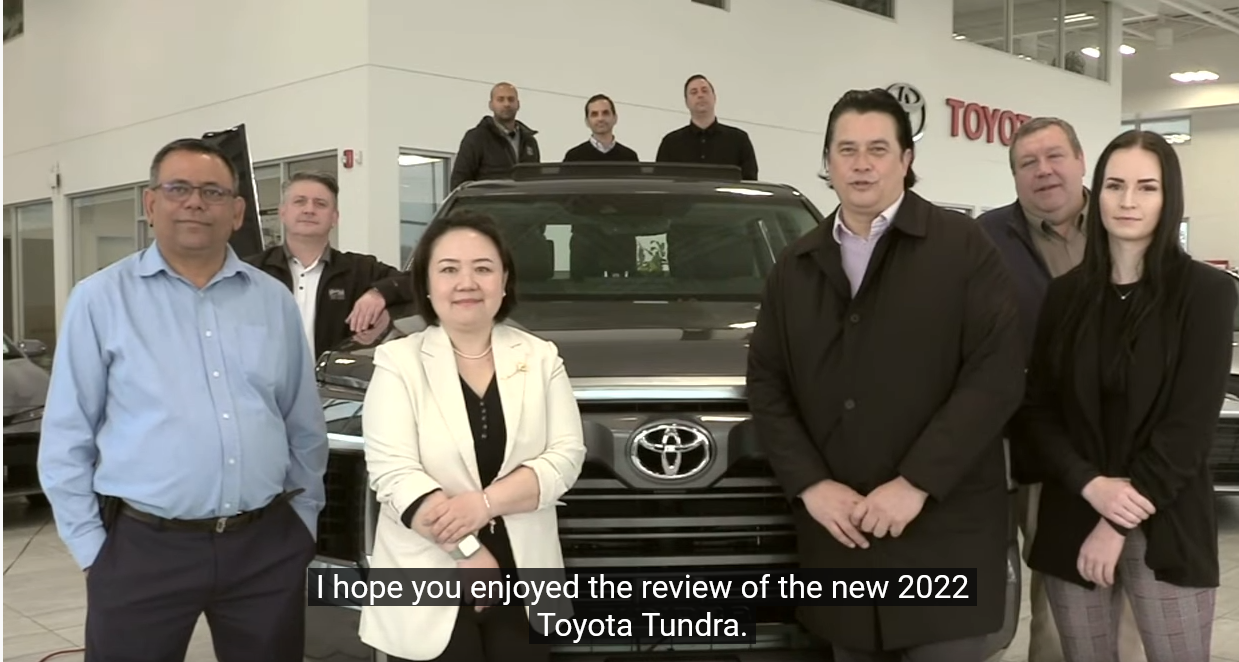 Only one team wins the Super Bowl.
For each player on the LA Rams going to Disney World after the game there is a player on the Bengals going home disappointed without the joy of victory.
It's a lot like life.
Sometimes we win, sometimes we lose.
Sometimes we win the account, the game, the job promotion, the award and sometimes we lose the very thing we want most.
Winning matters. Losing matters. But in life what matters most is what we do with our wins and losses.
When we win do we become complacent or stay humble and hungry?
People often say that success breeds success but often it breeds complacency. After a win people think they can just show up and achieve the same result, forgetting the effort, determination and mindset it took to achieve the win.
To continue winning it's essential to turn the euphoria of winning into a fire of burning desire that fuels your continuous improvement, passion, and quest for excellence.
Even more important than what we do after our wins is how we respond to our losses.
Do we give up or come back stronger?
Do we allow the loss to act like a cancer that eats away at us for the rest of our life or do we turn it into a learning opportunity that leads to our healthy growth?
I certainly know what it feels like to lose. I've lost many arguments with my wife. : ) My book The Energy Bus was rejected by the first 30 publishers. As a sales person years ago I lost as many accounts as I won. I lost too many games as a Lacrosse player at Cornell and now I watch my children lose tennis matches and lacrosse games.
Everyone loses but the key is to make the loss stand for something and in my family LOSS now stands for:
LOSS (Learning Opportunity, Stay Strong)
When we lose we ask what we can learn from this loss and how we can improve because of it. Then we stay strong and work harder to come back and try to win.
This leads to more wins in the future...and also eventually more loses...and more learning opportunities and opportunities to stay strong and develop our character.
Through this process of winning and losing we learn the greatest lesson of all:
No matter how hard we work and how much we improve there will be times when we experience the worst of defeats instead of the greatest of victories. But ultimately life is about more than winning or losing. It's about the lessons we learn, the character and strength we build and the people we become along the way.
Whether we win the Super Bowl or not, when we realize this we will surely be a winner in the game of life!
If your business needs marketing that works, give us a call. We're here to help!
Be blessed this week.
Drago
Connect with us here : Facebook, Twitter or LinkedIn

To Sign Up For The MMM simply send an email to drago@adamadgroup.com with the word subscribe in the subject line.

Check Out Our Testimonials Section!
Please Meet Some Of Our Fabulous Clients
Ford Canada - www.Ford.ca
Vancouver Giants – www.VancouverGiants.com
West Coast Auto Group - www.WestCoastAutoGroup.com
Trotman Auto Group - www.TrotmanAutoGroup.com
Jim Pattison Auto Group - www.JPAutoGroup.com
Old Mill Cadillac Chevrolet Buick GMC - www.OldmillGM.ca
Eastside GM - www.EastsideGM.ca
Bourgeois Auto Group – www.BourgeoisAutoGroup.com
Finneron Hyundai - www.FinneronHyundai.com
Dueck GM - www.DueckGM.com
King Of Floors - www.KingOfFloors.com
Tell Del - www.TellDel.com
Spraggs & Company - www.Spraggslaw.ca
Royal City Jewellers & Loans - www.RCJ.ca
Spa Utopia - www.SpaUtopia.ca
Island Auto Finance – www.IslandAutoFinance.ca
Sunshine Coast Health Centre - www.SunshineCoastHealthCentre.ca
Just to name a few…