How many leads can your Investor relations handle?
2 salesmen went to Africa to sell shoes.
One said the situation is hopeless, they don't wear shoes.
The other said, glorious opportunity, they don't have any shoes yet.
How many leads can your IR handle?
More than 10 million new brokerage accounts are estimated to have been opened in the first half of this year, according to JMP Securities. 
MORE THAN 100 MILLION is the the number of users/accounts combined at six of the top online brokerages, according to the most recent data.
BUT you might think that in many cases the larger traders only influence market prices. 
But the reality is, the rise of the retail trader, and those trades coordinated through social media platforms, can really shift market prices."
AND, a recent survey from investment firm TIAA found that one-third of Americans act on financial advice found on social media.
Yes, social media!  With Facebook and Instagram leading the way.  
Problem is, there's just under 20,000 Public Companies competing for investor dollars in North America alone!
So, how can YOU stand out?
So we know the "investor" is out there.  And we know that they can and do affect stock prices when engaged.  Remember Game Stop?  
Fundamentals often do not matter. Emotion and awareness does.  The story matters.  
If our investors are on Social Media, for example facebook, and they are actively looking for the next trade, then doesn't it make sense for you to be there to be found?
Of course it does.  
Yes, stock web pages do serve a purpose, but the NEW retail investor knows they are mostly filled with pump and dump chat rooms, often with mindless comments by 12 year old kids in their parent's basement.
The NEW Social media investor wants to hear your story.  And they are looking on facebook. 
But reaching them on facebook is not as easy as it may sound or appear at first.   The landscape is highly competitive and Social media runs on Complex algorithms and Artificial Intelligence.  But if you are being "sold" a set and forget system, you are being led down a garden path.
You know the term.  Garbage in, garbage out.  AI is still just a computer program, and without the most complex "computer" in the world behind it, you are wasting your promotional dollars.
So, how many "FULLY QUALIFIED LEADS," can your I R handle?  
Introducing the oMeGa7 system, our most powerful Algorithm HI we've ever developed for the systematic capture of retail investor leads.  And we can prove it.
But what is Omega 7?
It's an evolutionary system of constant human interface and observation tied together with the most sophisticated AI systems that facebook has ever offered. 
Can you do it on your own?   No, not a chance.  And we mean that in a positive way.  And why would you want to?  You have a company to run.  Plus, it has taken us years of development and constant modification and adaptation to reach this point, and we are just getting started. 
And what is this POINT we are talking about?
Simple.  How many "QUALIFIED LEADS" can your I R handle? 
If you're ready for just not a 'NEW," way, but the future of investor relations and lead generation,
CONTACT US TODAY and ask about the Omega 7 System.  
Does The Omega7 System Really Deliver? (Case Study)
Izotropic Corporation wanted to expand their shareholder base across the United States, their instructions were "We want our IR team to receive 200 leads per week."
Here's how the Omega7 delivered.
We created The Medical Breakthroughs Video to craft their story and created a series of Facebook Video ads and implemented The Omega 7 System which generated the following feedback from our client.
AND THEIR RESULTS?
"Just heard from IR they are reporting ABOVE EXCELLENT feedback so far, over half of the contacted leads to date were investment related, also 2 institutional investors and numerous accredited investors spoken to so far." We have never had these kind of results from previous lead gen campaigns in such a short time! Needless to say we are extremely happy!
IZOTropic Corporation requested 200 leads per week and we are delivering!
Here's what the retail investors see when they engage the promotional content.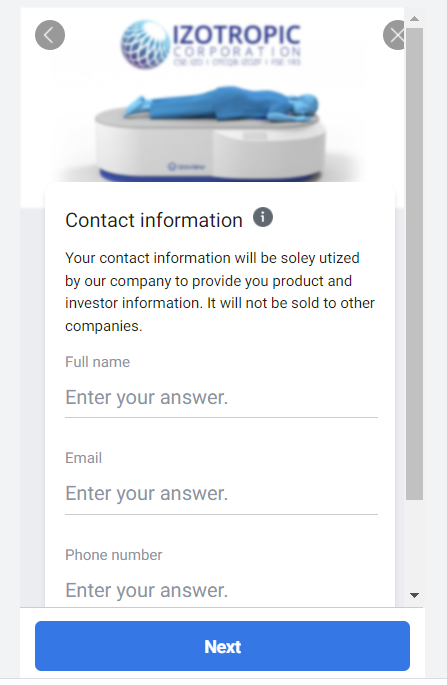 If you're ready to start receiving QUALIFIED LEADS for your public company in just a few days, at a CPL you may never have experienced before, TALK TO DRAGO ADAM today. This is not just a new way for you to engage retail investors who can affect stock price, it's the future here NOW.